People are spending about 80 percent of their time indoor. Consequently, the indoor environment is very important for the exposure of people to pollutants. Especially for children, since they are still in maturation and as such extra sensitive for indoor pollution.
The Flemish Government, through Aminal (the Flemish Environmental Administration) –Centre for Environment and Health, in cooperation with VITO, therefore wishes to investigate the exposure of children to indoor air pollution. The infiltration of pollutants from the ambient air into the indoor environment will also be subject of investigation. The project started in January 2005 and will end in January 2007. In and around 50 dwellings, the concentrations of a number of air pollutants will be measured. Amongst the pollutants measured are benzene, toluene, xylene formaldehyde, particulate matter and nitrogen dioxide. Apart from dwellings, also schools, day care centers and transportation modes will also be sampled.
The actual measurements are scheduled between January and February 2006. The winter season is chosen season because in this period, most pollutants may reach their highest levels. Ventilation levels are the lowest in the winter, which increases the concentration levels more.
Wherever possible, diffusive samplers will be used. They are easy to use and cause no inconvenience to the residents. (cfr. picture).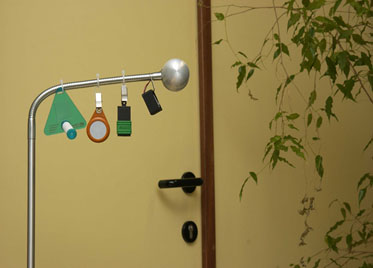 Participants in the study will be asked to complete a diary which is required in order to assess the children's total exposure to the selected pollutants. This information reveals how much time children spent in each environmental micro-environment (e.g. dwelling, school, car).